〒-Address: 3-12-31 Higashinakamoto Higashinari-ku Osaka Japan 537-0021 Email: info@hirosetec.co.jp
TEL:+81-66967-0951
FAX:+81-66976-0952

For more than 100 years since our establishment, HIROSE IRONWORKS CO., LTD. has responded to any demands of each period with our own manufaturing techniques of printing press.
In the twenty first century, we will need to take the countermeasure for the environmental protection, while Information Printing, Commercial Printing, Packaging Printing and Special Printing shall be highly digitalized.
We, HIROSE make a fresh determination to develop and manufacture various products which will satisfy our clients with our best efforts for "More Beautiful," "Tender-hearted for People" and in particular "No Risk to the Earth" through our production of Sheet Gravure Press, sheet U.V. Flexo Pattern Coater, Print Inspection Machine and Offset Plate Inspection Machine.
Hot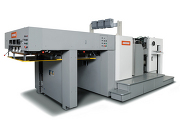 IGAS 2011
Offline Sheet
print Inspection
system
inspect40

Quality assurance.
Massive inspecting
capacity.
Reduction of
inspection costs.


IGAS 2011
Small Size Flexo
UV Coating Mchine
SAC-18E

Doctor chamber
flexo system
Spot coating 


Topics